"Where u be at?" That's what I always text Kelly when we're at work. I'm sure some of you are asking that same question of me lately. Well here's the answer. Sadie, Gidget and I made it back from Georgia in one piece, and man were we happy to be home, just in time to start planning a massive home renovation. I've been harassing Dan for a long time about redoing the kitchen and bathroom. Actually they were on our list from the day we bought the house. After multiple contract revisions, my poor contractor is a super nice guy for putting up with me, we finally agreed on a plan to move forward. They started the demo yesterday! I'm kinda excited.
Those are definitely the two rooms I spend or would like to spend the most time in so I can't wait for it to be all shiny and new. If you don't know what our humble kitchen and bath looked like here are a couple before pictures.
Yes those are lavender counter tops if you were wondering.
We had green carpeting that ran through the whole first floor including the kitchen when we first moved in. It was even glued down. Lemme tell you that was super fun to pull up. I put in the above floor myself when we bought the house. It's that wonderful self stick linoleum tile and it did the trick very well for four years. I also changed the pulls on the cabinets since the original ones were coated in grease. You can also see at least three light fixtures that were in very weird places and a strange tiled ceiling. I also hated that the fridge was located in between two windows and in the middle of the room. Basically everything was gross so we are ripping it all out and starting fresh. The bath was much of the same but its so small that I had a hard time taking pics.
It was just a big ole time warp. The worst part about the whole thing, other than the unconquerable mold that would resurface each month in the shower, was the plastic paneled walls and yellow linoleum floor.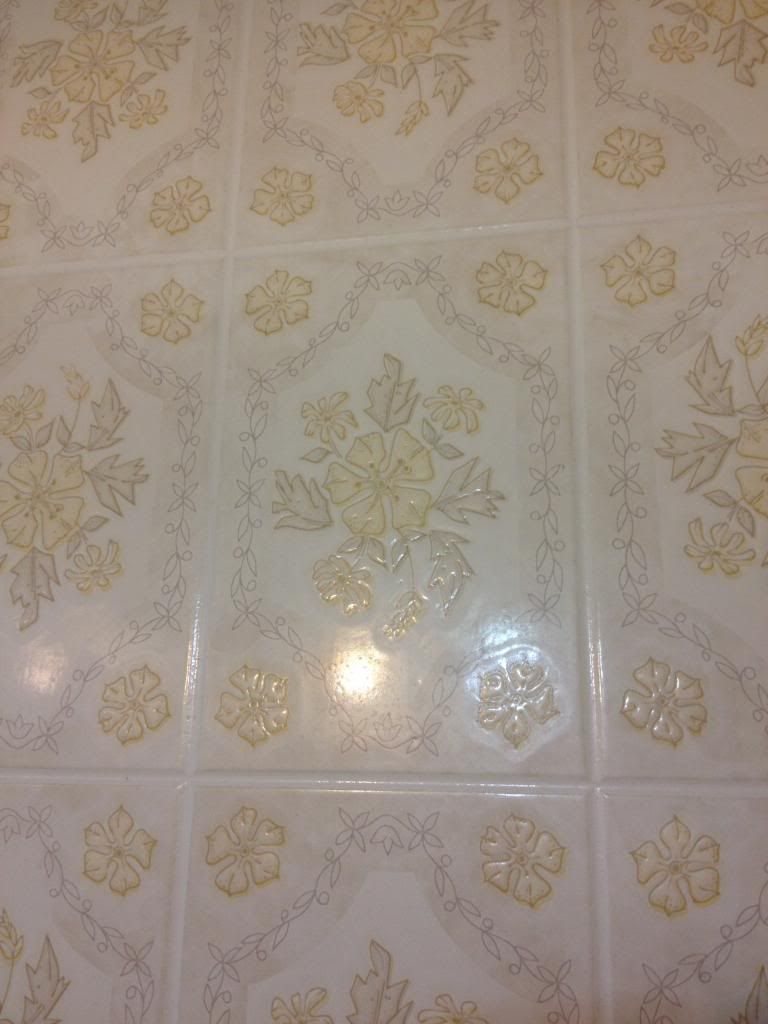 Faux tile paneling. So chic.
I never felt like this floor was ever clean. The color just made it look stained and dirty.
That fake tile paneling ran from floor to ceiling.
So for now craft club headquarters has temporarily moved to Katy's house and I'm up to my ears in picking out plumbing fixtures and finishes. We've moved into my parents house (thank goodness for family) and are hoping for the project to be done in under two months. I have to admit it's kinda nice to have mom cooking dinner for me. ;) I'll try to post some pics of the process so you guys can see everything. Here's where they were at after the end of day one.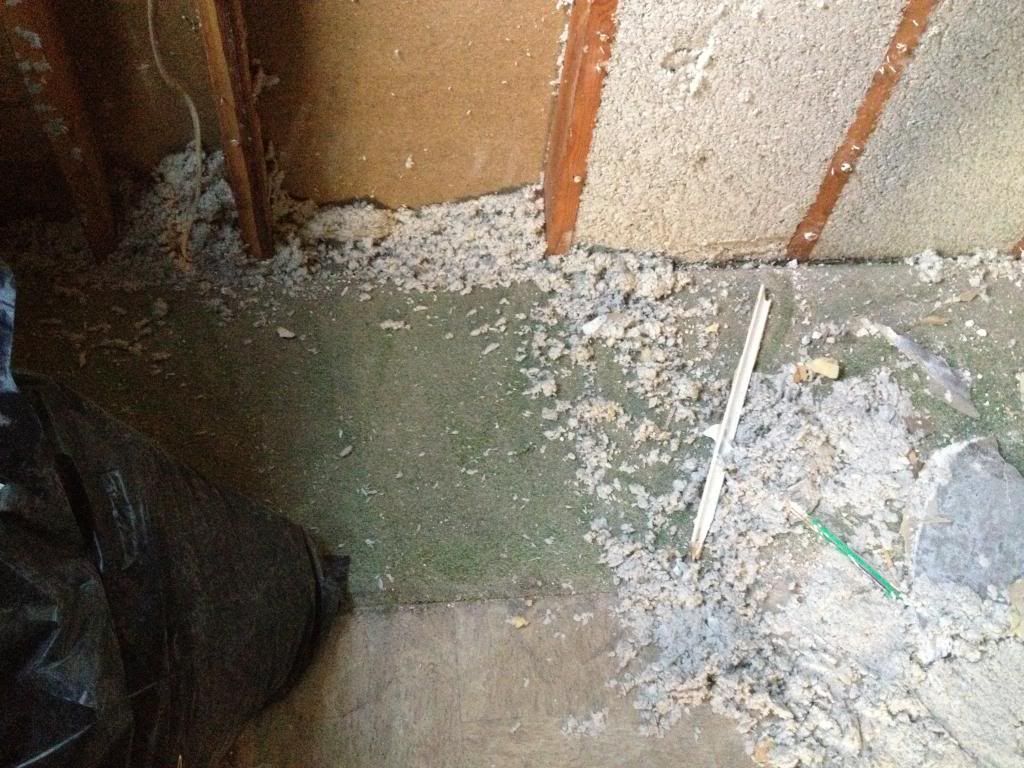 There's the remnants of the green carpet. Those are the pieces that were under the cabinets that we couldn't get at.
UGLY KITCHEN IS GONE! It's kinda weird cuz the room actually looked smaller without the sheet rock and cabinets. I thought it would be the opposite. My latest victory is getting all the tile picked out for the bathroom. Sadie was a big help in making the final decision as you can see.
Anita