I never thought I would be able to post this type of post....as in a post about fish cakes. Not that I don't like fish cakes as there is very little sea food that I don't like, but it was more my husband that was the surprise with this post. I found a salmon cake recipe that my husband will actually eat!! He does not like most fish, let alone canned salmon, so when he declared this meal as awesome I was so happy I had to share it with you.
Salmon cakes with Cilantro pesto
1 14 oz can of wild Alaskan salmon, drained and picked free of bones and skin
1 lemon
1/4 cup dry breadcrumbs
2 tbsp. mayonnaise
1 tbsp. chopped cilantro
1 tbsp. butter
Flake salmon into a bowl. Juice half the lemon and add juice to the salmon. Add in the breadcrumbs, mayonnaise, and cilantro. Mix gently until well combined. Form into four patties and let sit 5-10 minutes to let the breadcrumbs absorb the flavor. Heat the butter in a skillet until it is foaming. Cook the salmon cakes until golden on both sides, 5-8 minutes total.
1/4 cup canola oil
1/4 cup slivered almonds
1 clove peeled garlic
4 cups loosely packed cilantro leaves and tender stems
salt and pepper to taste
Place oil, almonds and garlic in a blender and pulse to combine. With the blender on medium, slowly add the cilantro a small bunch at a time. Stop and scrape the sides occasionally until all the leaves have been pureed and you have a nice thick paste. Season with salt and pepper to taste. My husband liked this pesto so much he wanted to slather it on anything he could find in the kitchen. Serve the salmon cakes with sliced lemon and the pesto, its over the top with a simple salad and warmed corn tortillas.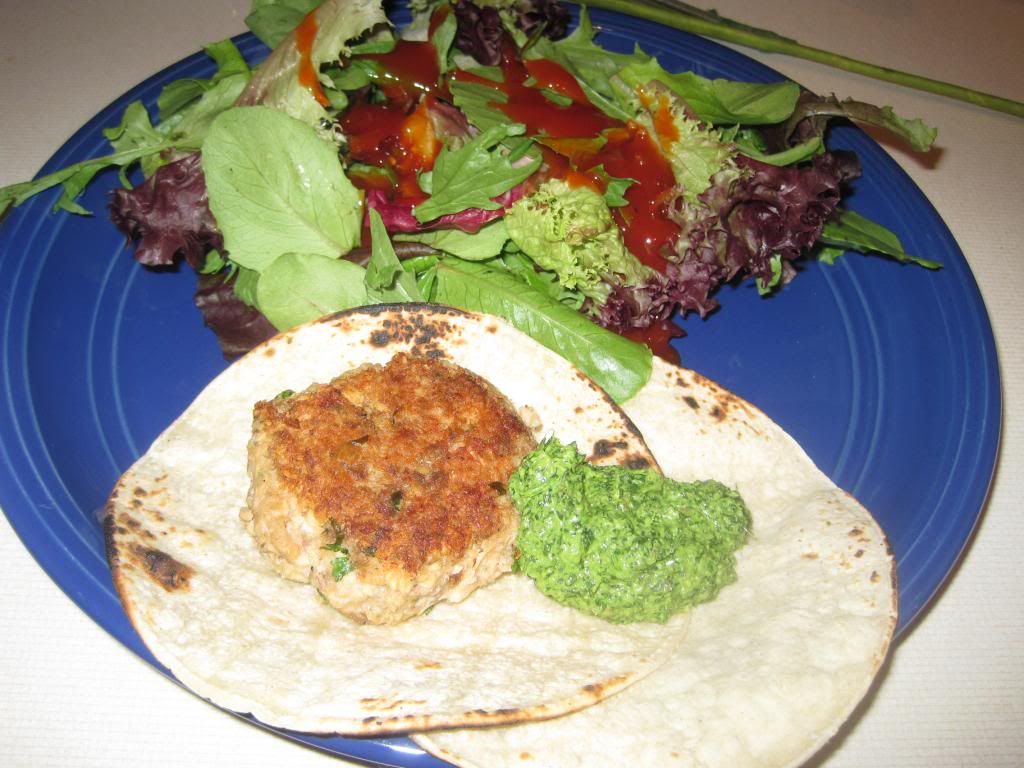 I hope this inexpensive recipe works as well for you as it did for me. Tomorrow's lunch of leftovers is going to make my day!
Keeping it cilantro green,
Kelly the origami ninja