It is FINALLY getting a little crisp here and I could not be more ready for it.

Football is being played at colleges and in major cities across the country.

Tailgating is in full swing.

Team gear is being worn in all the most garish of hues and in the oddest of types.

No one wants to put on the full Darth Vader outfit and go out to cheer for the Oakland Raiders in 95 degree heat.

When I represent for the Bears I am hoping for some chill in the air so I don't overheat in my sweatshirt or Harry Potter type scarf in the old navy and orange.

So with all that I welcome the fall cool with a happy heart.

Cool temps=good baking.
Pumpkins are just around the corner, and with them will come pumpkin baking, roasting of seeds from the plethora of squashes available, and recipes involving leftover Halloween candy.

I don't know about you but I have never had any leftover Halloween candy so I don't' really have any recipes that would call for it.
To get my freezer ready for this wonderful fall bounty I need to clean out a summers worth of frozen bananas.

My husband eats two a day, but sometimes during the garden harvest months he has other fruits to eat and he forgets to eat both.

He still buys the same number every week so I end up with a few over-ripe ones at the end.

I have dedicated bags in the freezer for the brown spotty bananas to be used in baked goods.

I toss them in the bags with the peels on and let them sit until needed.

Three fully defrosted bananas are the same as the 1&1/2 cup mashed banana called for in a recipe.

You just squish them out of the peel into the batter as it mixes and they disintegrate right into the mix. Delicious!
As I have several bags of these frozen fruits it's time to start the banana bread baking bonanza. I make several different flavors like chocolate or peanut butter as well as plain and freeze the baked loaves for later.

You never know when you might need a quick something to bring to a potluck or as a thank you to the neighbors for saving your mail.
Peanut Butter Banana Bread
1&½ cups mashed banana, or three previously frozen bananas fully defrosted
1/3 cup chunky peanut butter
2 eggs, or egg substitute equivalent
¼ cup wheat germ or ground flaxseed
Preheat oven to 350.

Coat a loaf pan with cooking spray.

Combine the first five ingredients, through eggs, in a bowl and beat at medium speed.

Add in both the sugars and beat until blended.

Combine the flour and the remaining dry ingredients, through the cinnamon, in a separate bowl.

Add to the banana mixture and beat until blended.

Pour batter into the loaf pan and bake for 65 minutes or until a wooden pick inserted in the center comes out clean.

Cool ten minutes in the pan, remove and cool completely on a wire rack.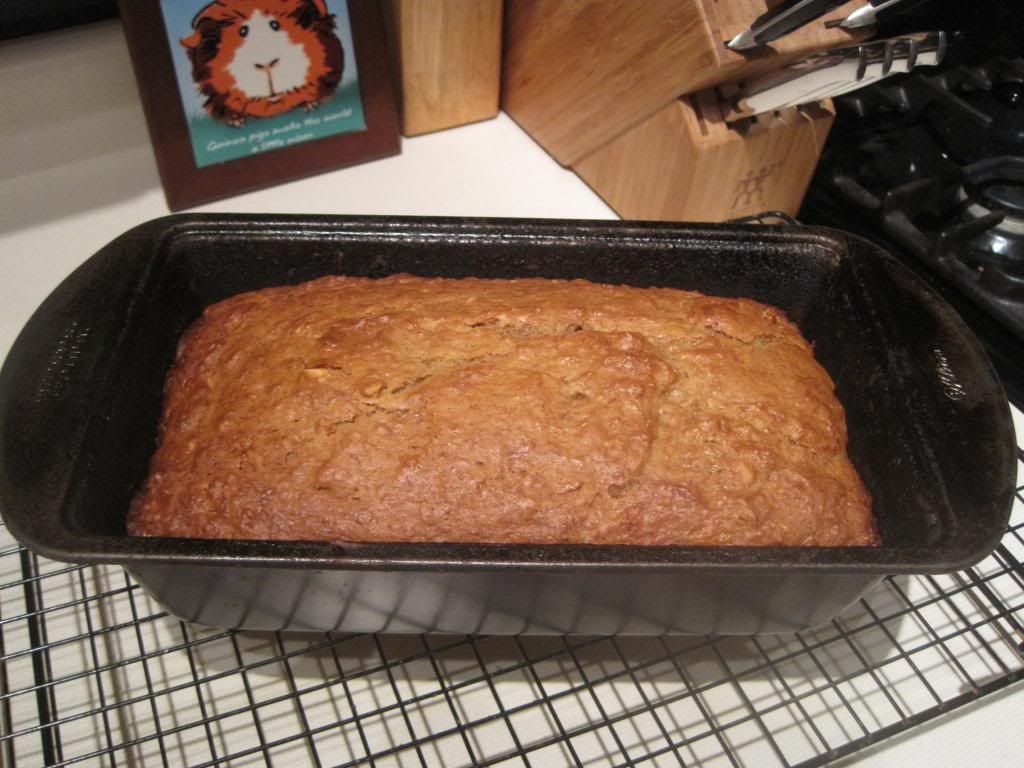 This recipe makes a tall thick loaf that goes a long way.

Great for breakfast or a snack or what have you.

The peanut butter taste is noticeable but not overwhelming and I think kids would like the change of pace.

I hope you are all looking forward to fall and all the beauty it brings!