I am an admitted, all be it I can be rather quiet about it depending on who is around, garbage picker. I am not digging down to the bottom of cans but a cool item on top or sitting on the ground waiting for pickup is fair game to be brought home and re-imagined as something fun. I am always on the look out for something that fits into the "one mans trash is another mans treasure" realm that I can pick up and make my own. After this awful winter the spring brought a massive wave of yard cleaning and improvement. This has proven a boon to my collecting, thus adding some fun football team support in my front yard for very little money. I picked up three great items this spring and along with a few I already had have been painting them up in Chicago Bears blue and orange. I have spray paint cans ready and tackle the items with gusto. See, I live very near the Illinois/Wisconsin border and you have to put out your support for all to witness. Packers green and yellow or Bears blue and orange, however you go you have to put it out there, there can be no question who you root for when folks drive by.
The milk jug I picked up and painted with my favorite spray paint and topped off with a web bought sticker. The bird house was one we had made a year or two ago on a Craft Club adventure, gussied up to match the milk jug, and balanced on a landscape rock that used to hold a koi fish statue. Last but cutest is the little bear I got from a neighbor that was leaving the area, hand painted to add just the right amount tacky to the grouping.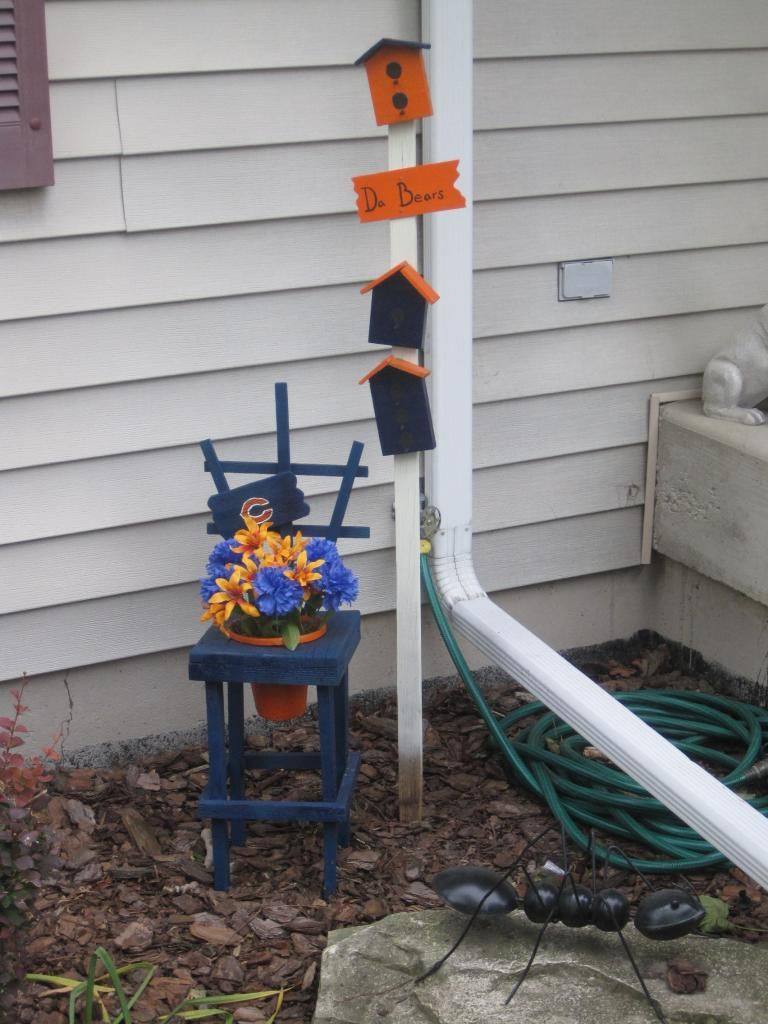 The birdhouse sign was picked out of a can during the great freeze in January, I hauled that thing all the way around the dog walk in the wind and cold. I added a little sign I bought and pounded in in the ground near my door. The little chair was out by the curb with small weather worn bugs all over it. We popped off the bugs and sanded down the sign before painting 'er up. Some fresh blue and orange flowers and we have a brand new take on an old yard decoration. These up-cycled yard items make me so happy to look at every time I come home from work. I love to see items in a new way and I hope you do to!
I hope your summer is great!
Kelly
Just a little guinea pig nose to make you smile!