I don't know about all of you but I am still working through my summer zucchini bonanza. Those big yacht-sized ones will keep for weeks, patiently waiting to be shredded for bread and muffins. While too big and fibrous for frittatas and stir-fries, the big boys will never be turned away when offered up by generous neighbors, they can be stored for an extended period of time to keep the summer seasonal baking alive until fall comes. I learned this year to cut out the porous core with the seeds to keep from shredding them into the finer textured quick breads like the lemon one below. The guinea pigs love the cores and make quick work of them when offered up as the daily veggie treat. But if I am making a hearty loaf that can stand up to a good smear of whipped cream cheese I will go ahead and leave them in for bite and loaf stability.
I wanted to try a new zucchini recipe or two this year to keep it exciting and keep my poor husband from suffering from zuc burnout like last year. I made tons of quick breads, frittatas, muffins, stir-fries, and even grilled it up on the bbq. A new recipe I tried that really woke up the taste buds and didn't make you feel like you were eating yet another heavy spice laden slice of quick bread trying to hide the fact that it contained zucchini was this Lemon Zucchini Loaf. I wanted one that was bright and fresh but did not have a gaze on top. Don't get me wrong, I love a good glaze; it can truly take a loaf from a simple snack and elevate it to cake status. But this loaf was going to get sliced and packed in my husband's lunches and a glaze would end up adding a soggy factor that I didn't want since it could end up sitting in a truck for several hours before being eaten, we do have to keep up "the wife who bakes the yummiest things for her husband" ideals. If I was serving this at a party or event I would definitely splurge and top this wonderful bread with the tart and yummy glaze.
This recipe yields a dense loaf that is very reminiscent of a pound cake but without the butter. The lemon is bright and clean and coupled with the density make this almost dessert like without a heavy sugar load. With only one cup of shredded zucchini in the recipe this loaf could be baked anytime of the year when you need a little something for a treat or to give as a gift. The recipe is from
Sunny Creek Farms
.
Lemon Zucchini Loaf
2 cups all purpose flour
2 tsp baking powder
1/2 teaspoon salt
2 eggs, or egg substitute equivalent
1/2 cup canola oil
Juice of 1 lemon (or 2 tablespoons lemon juice)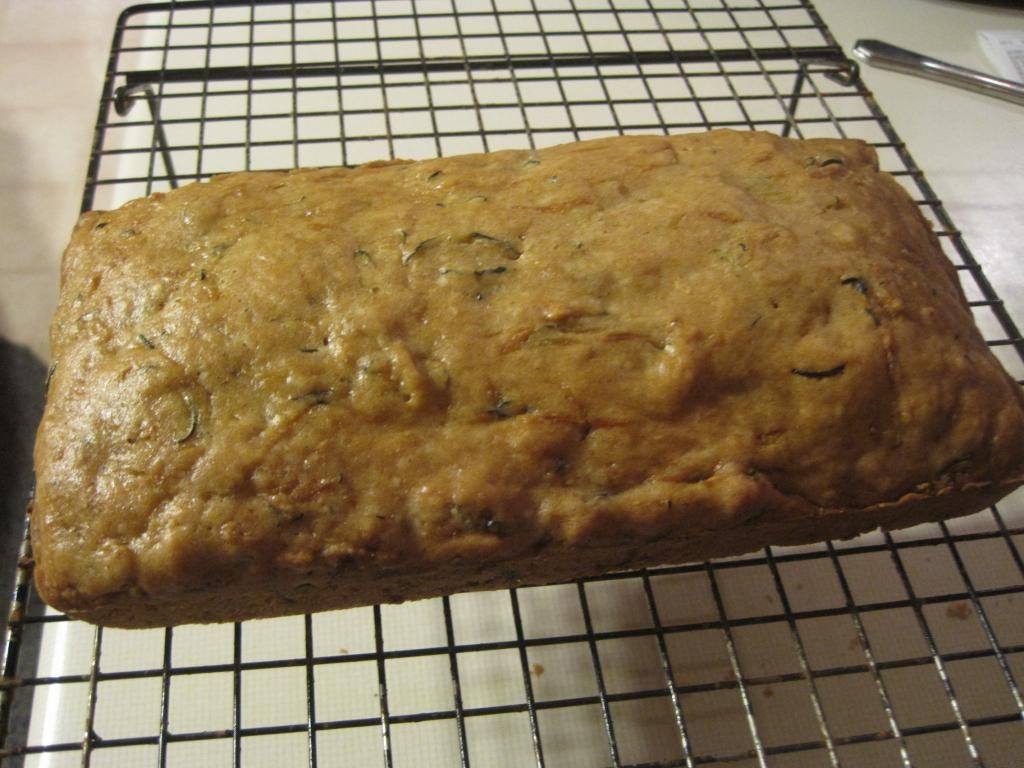 Preheat oven to 350 degrees. Grease and flour a 9×5-inch loaf pan; set aside. In large bowl, blend flour, baking powder, and salt; set aside. In medium bowl, beat 2 eggs well, then add canola oil and sugar, and blend well. Then add the buttermilk, lemon juice, and lemon zest and blend everything well. Fold in zucchini and stir until evenly distributed in mixture. Add this mixture to the dry ingredients in the large bowl and blend everything together, but don't over-mix. Pour batter into prepared 9×5-inch loaf pan and bake at 350 degrees for 45 minutes, or until toothpick inserted in center comes out clean. My oven runs a little on the cool side so I bake for 55 minutes. This loaf does not really get a golden top while baking but the sides get a nice caramel color to them. Cool in pan 10 minutes, then remove to a wire rack and cool completely.
This bread isn't too sweet and the lovely lemon flavor really shines through. Brunches, Sunday mornings, or hostesses with the mostesses would all benefit from this simple slice-able treat. I think I will go cut a slice and try to move on through the paper-piecing technique Anita taught me this past weekend. She is such a great teacher and my star piece makes me very happy! I am going to work on learning how to make my own piping to finish it into a pillow cover that I promise to share, but I have to finish it first! Good thing for baked goods and rainy days, they make for great crafting!
Keep it homemade out there, I know you will!