I decided to welcome fall and at the same time avoid watching the Bears/Packers game with some baking this past weekend.

We put up all the Halloween decorations on Saturday so it was starting to get moving in the Summer is over let's bring on Fall kind of direction in our household.

Apple picking is just around the corner along with pumpkins, corn stalks, squash, and apple cider doughnuts.

Even t

hough Christmas is already out in the stores, taking up valuable Halloween decoration and candy space, and I

swear Pumpkin Spice Lattes have been out since the end of August, I have been looking forward to refreshing cold glass of apple cider to acclimate myself to the new season. It is still a bit too warm for the latte, no offense you pumpkin spice lovers out there, your crisp temperatures will come.
I love all the flavors of the fall season.

They are more deep and aromatic than then fresh bites of summer, but not as heavy and sweater inducing as winter eating.

Cloves, cinnamon, ginger, and nutmeg mixed in with brown sugars and rich butter create a dense taste that is both warm and inviting after a day spent outdoors picking pumpkins and hanging up spooky ghosts that creep out the neighbors and at night.

This quick bread has a very dark color with all the fantastic spices but don't let it fool you, it is at home with a nice smear of whipped cream cheese and that cold glass of apple cider or warmed with a bit of butter and the spiced latte of your choice.

I have even toasted a piece or two for a comforting breakfast.
It uses some of that zucchini that might have been squirreled away in your freezer from the summer's bounty or from fresh bought at the store which can still be found a good price.

If using frozen zucchini don't be afraid to pour off some of that extra liquid but not all of it, we don't want a dry loaf.

The recipe is very forgiving when it comes to the spices.

Sometimes I cut back on the ginger and add in a bit more cinnamon for a richer flavor that is less reminiscent of spice cake and is more like apple pie.

I have a cooler oven so I bake my loaf 5-10 minutes longer than the recipe calls for and since it is a dark batter you have to keep an eye on it, checking it often with the toothpick.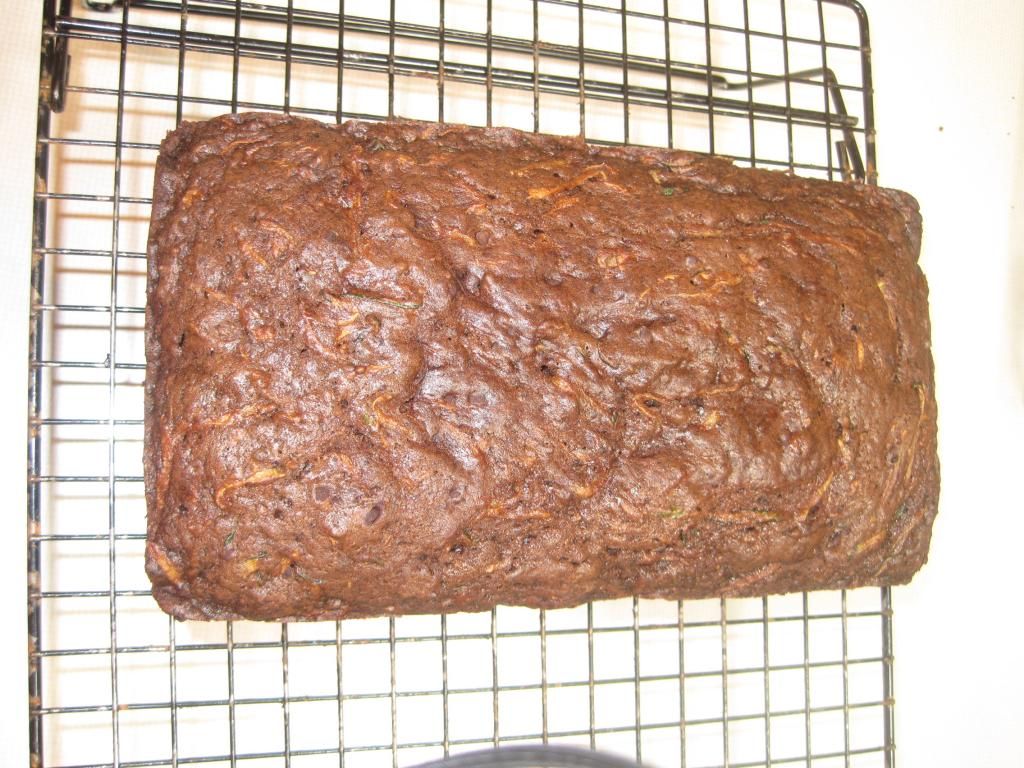 1 large zucchini grated or 2 cups grated

1 cup packed brown sugar

2 Tbsp. white sugar

2/3 cup vegetable oil

2 tsp vanilla

2 eggs or egg equivalent

1&1/2 cups flour

½ tsp baking powder

½ tsp baking soda

1&1/2 tsp cinnamon

¾ tsp ground nutmeg

¼ tsp ground ginger

1/8 tsp ground cloves

¾ tsp salt
Preheat oven to 350.
Lightly coat a 9 x 5 inch loaf pan with cooking spray.
In a large bowl, whisk together the sugar, oil, vanilla, and eggs. In a smaller bowl, sift together the flour, baking powder, baking soda, cinnamon, nutmeg, ginger, cloves and salt.
Add the dry mixture to the wet mixture and stir to combine well.
Stir in the grated zucchini.
Pour the batter into the prepared loaf pan and spread out evenly.
Bake until a toothpick inserted into the center comes out clean, 45-55 minutes.
Cool in pan 10 minutes then cool fully on a wire rack.
This baking adventure turned out much better than the Bears/Packers game; at least if you were a Bears fan, sigh…..

The leaves are changing and the Halloween decorations are beginning to appear around the neighborhood.

Soon it will be time for hoodies every day and my favorite crafting time of year, the Howl-oween Tricks and Treats Craftathon!