I have been working hard in 2015 to keep up with my craft/cooking resolution for the year. I have completed a knit cowl, which will be a post a later date, and have been attempting so many wonderful new Asian recipes that I plan on sharing here. I even baked my banana bread in muffin cups for ease of transport for my husband and it turns out it tastes even better than in loaf form with its nice crispy muffin top! I guess the winter weather has been keeping me in-doors more than usual which is helping me stay face to face with my kitchen and craft room. Small snow blessings.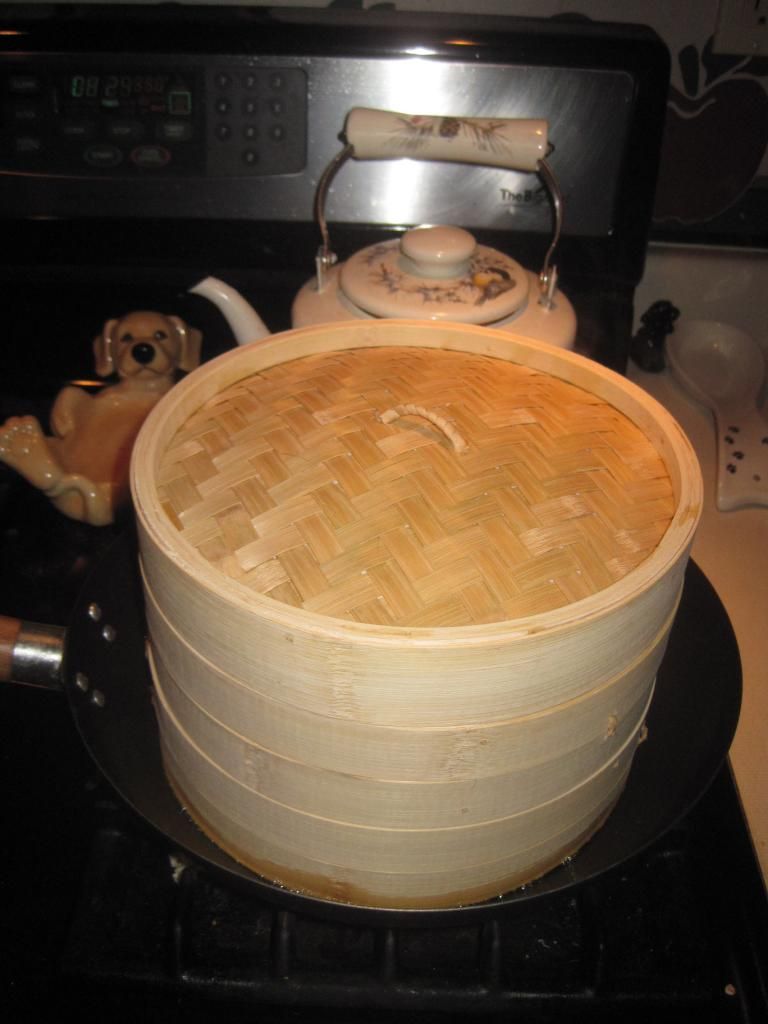 My recipe today is a pot-sticker from
Damn Delicious
. These amazing little edibles work up quick and taste so wonderfully fresh you will won't have to get take out when you need a quick and healthy meal on the table if you keep a big bag of these in the freezer. I made up a big batch and froze them to keep on hand for later. To add to the fun I pulled out my bamboo steamer and learned how to use it for the first time! It was so easy I just know I will be making up tasty food excuses to bring it out again.
Pot-stickers
1 lb ground pork
1 cup fine shredded cabbage
2-3 cloves minced garlic
2 thinly sliced green onions
1 Tbsp hoisin sauce
1 Tbsp grated ginger
2 tsp sesame oil
1 tsp Siracha
1/4 tsp white pepper
36 wonton or 45 goyza wrappers, goyza wrapper are smaller so you will use more of them
In a large bowl mix all ingredients except the wrappers until well combined. To assemble the pot-stickers: place a Tbsp of filling in the center of a wonton wrapper or a very scant Tbsp in the center of a goyza wrapper, using your finger rub the edges of the wrapper with water to moisten, fold the wrapper over to form a triangle or half moon shape, pinching the edges tightly to seal. Place uncooked pot-stickers in a single layer on a cookie sheet covered with wax paper or parchment paper and freeze overnight, move to freezer bags when completely frozen.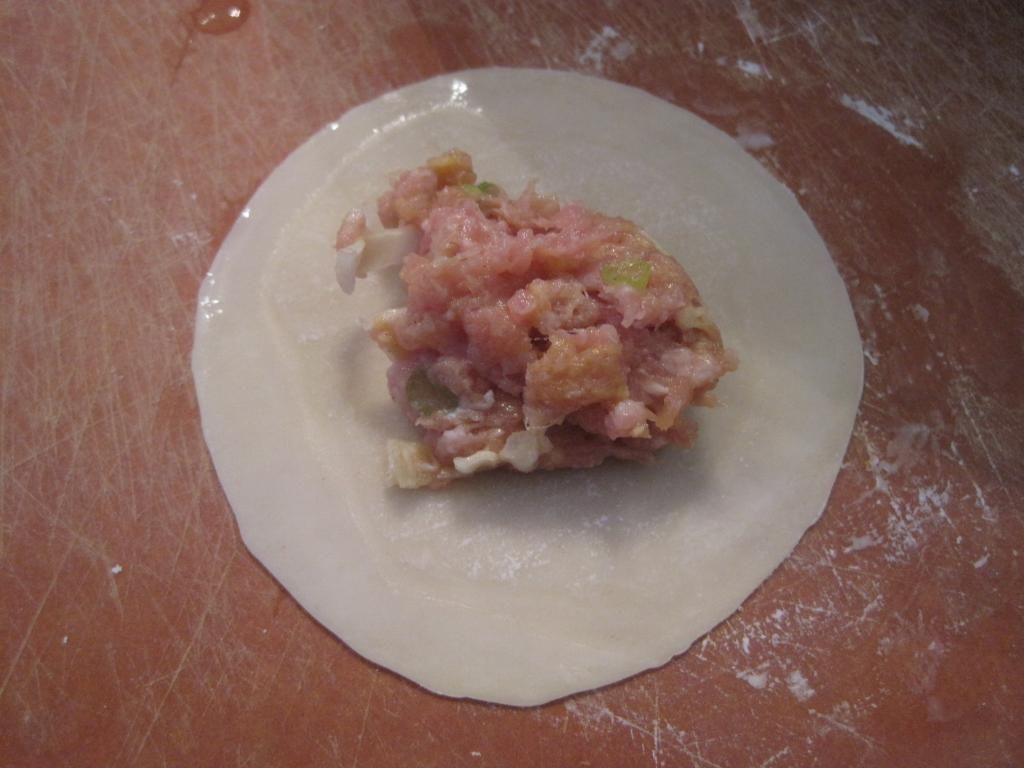 To steam using a bamboo steamer: Do not defrost the pot-stickers. Pour two inches of water into a large pan or wok and bring to a simmer, this water should not be so high as to flood the actual food in the bottom layer of the steamer. Your bamboo steamer should fit snugly into this pan without fear of tipping over. Place a layer of cabbage or lettuce over the grates in the steamer and position the pot-stickers on top of the leaves without allowing them to touch each other. Cover the grates with the steamer lid and place over the simmering water. Steam for 15-20 minutes until fully cooked. Serve with your favorite dumpling sauce.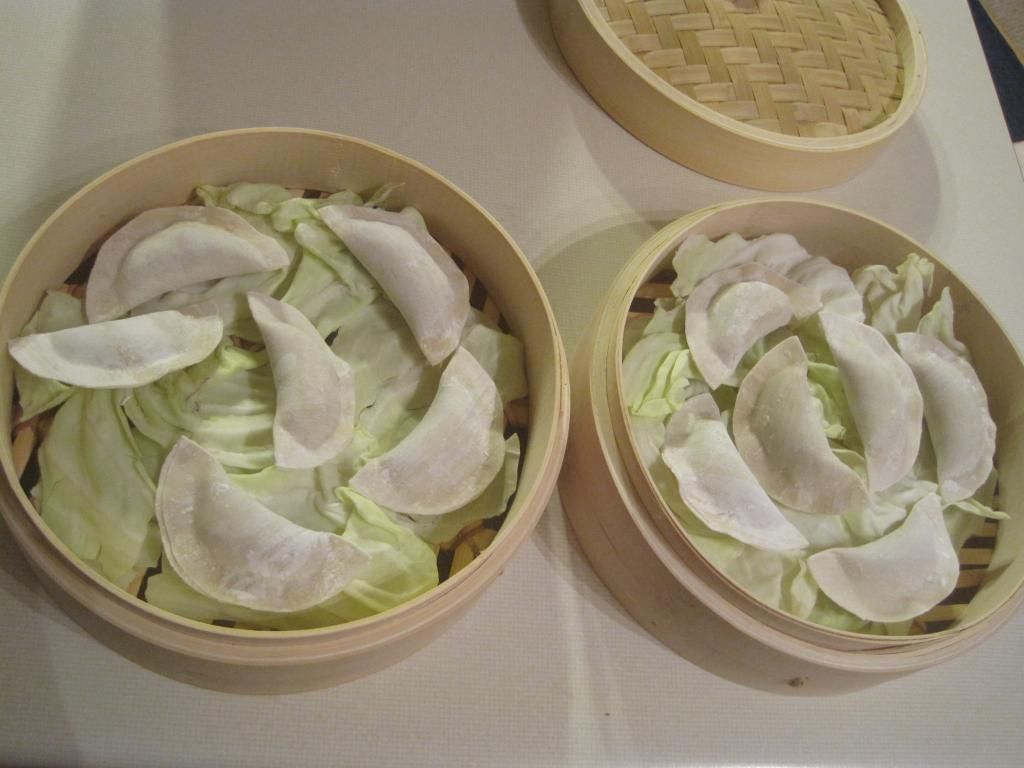 These can easily be made with ground chicken instead of the pork and can be tailored to your taste. The original recipe called for shitake mushrooms but I don't much care for them so I left them out, plus I added a bit more garlic and ginger. I cannot tell you how great these pot-stickers are compared to store bought frozen ones! It took me less than one hour to make 44 of these things and get them in the freezer. If you are a fan of fresh Asian cooking you will be an instant fan of these.
Keep cooking through winter, it might be the only way we will make it!
Kelly