Yay! I get to be the first Fab or Flop post! My posts will be mostly food, and by mostly I mean totally. I am working on costumes for upcoming conventions so tackling a new craft is not in the cards for me...but tackling a tasty, we hope, dish that I can do! If I can get one that my husband will eat too that is quite the win indeed.
My first Pinterest pin is for
Roasted Brussels Sprouts with Garlic Aioli
. I have always wanted to love sprouts, watching my vegetarian friend devour a big ole bowl caused such envy in my taste buds. As a cabbage lover this just seemed natural, but every time I attempted to cook these little buggers they would come out all dry and unappetizing. I mean an over cooked Brussels Sprout is one of THE nastiest foods out there along with malt anything and burnt sugar! To the Pinterest I went and scoured it for quick and yummy sprout recipe. I pinned this one a few weeks ago in earnest hope for the soon fresh farmers market veggies!
The one I pinned had simple ingredients and even simpler instructions. Cut 'em, roast 'em, dip 'em, eat 'em...this I can do! Oh what if this works?!?!! What if I find a recipe that I can enjoy on a regular basis, oh the excitement!
Roasted Brussels Sprouts with Garlic Aioli
1 lb sprouts, or around 8 sprouts per person
olive oil
salt and pepper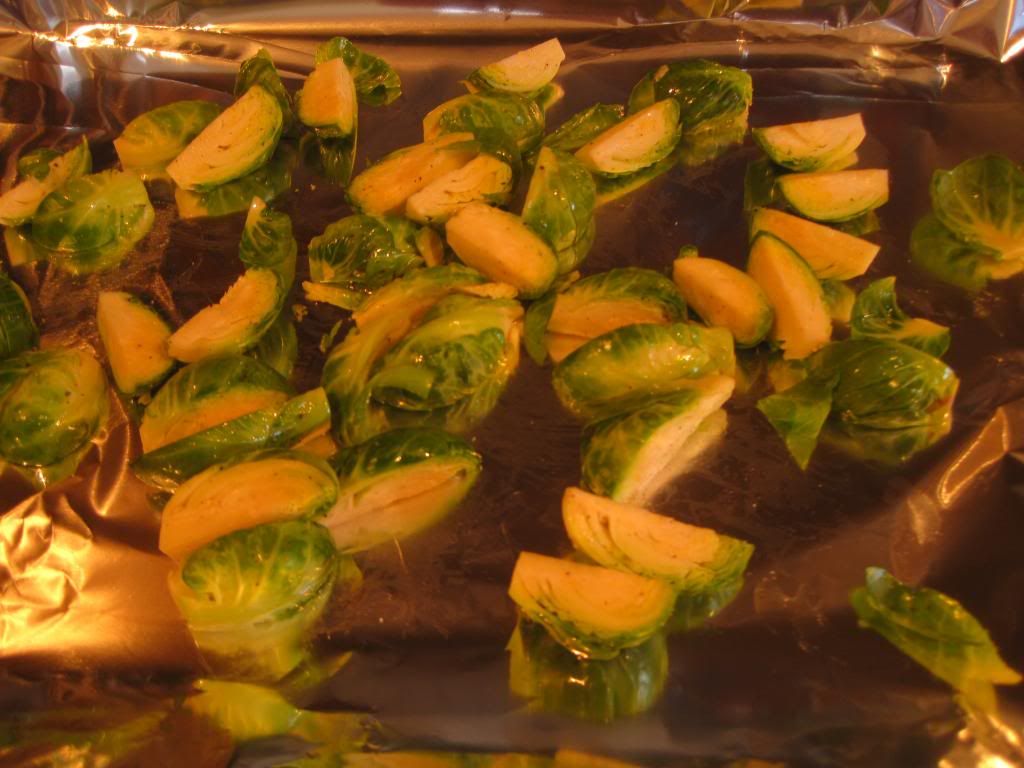 Preheat oven to 400. Slice the sprouts into quarters, make sure to keep any loose leafs that fall off, they make little tasty chips when roasted! In a bowl toss the quartered sprouts and leafs, salt and pepper, and a healthy drizzle of olive oil. Mix well and spread out on a tin foil lined cookie sheet. Roast in the oven for 15 minutes until nice and crispy, turning if you want, but I like them really crispy on the one side.
For the Garlic Aioli
3 Tbsp mayonnaise
3/4 tsp garlic powder
healthy squirt of lemon juice
Mix all aioli ingredients together and let sit one minute before dipping your heart out! This will make three servings of the dip. In the picture there is only one serving of dip for all those sprouts and there was plenty.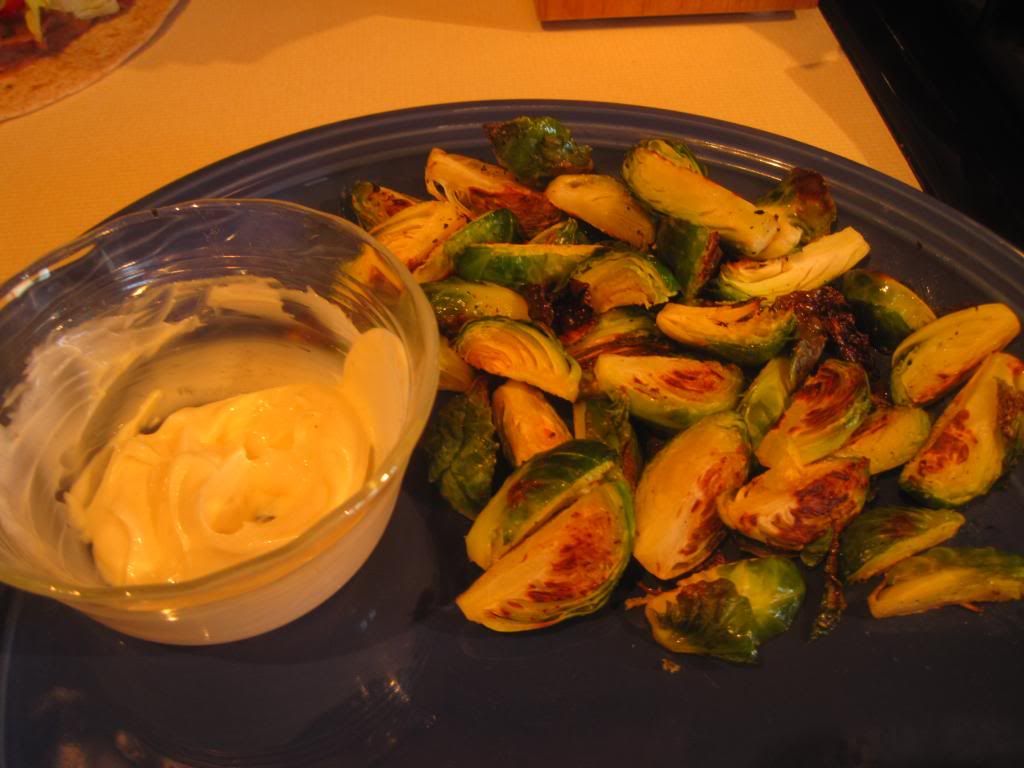 The original recipe called for fresh garlic, I was out at the time so I tossed in the powdered kind and I was very happy! Aioli was another food that I wanted to enjoy but often found it over powering whatever food it was paired with. This one is creamy garlic that melts into warm roasty sprouts!
This was a FAB for sure, I could eat this every week. I can't wait to see what Anita picks for her first pin!
Pin it up and have fun!
Kelly