It's that time of year again that we look to you, the amazing crafting community, to volunteer to be a part of our annual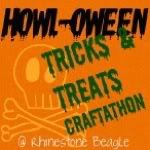 We are looking for a few good crafters to guest post for our 4th year of the craftathon. You can do anything from scary snacks and creepy costumes, to trick-or-treating trinkets and disturbing décor. Simple to complex, anything goes. We just ask that it's a you-original creation or at least a fresh take on an old favorite.

So if you're passionate about Halloween like we are, or if you just have a spectacularly spooky idea you want to share, here's what you do.
Send a quick email to

rhinestonebeagle@gmail.com

letting us know you want to participate before September 27th with your name, a brief description of your craft and your blog url.

Then get started on your tute. We will need you to have the finished post emailed to us by Sept 30th. That way we have time to work out any kinks that may arise.

Don't forget to take lots of pictures detailing your process and in true RB fashion if you have a dog please try to include them in one of your pics along the way. We will also take any other animal friends in the pics if you have them, be they furry, scaley, feathery, or of the smooth hide variety.
We will also be doing a special giveaway, just for the crafters that participate. Who doesn't love freebies?!

Thanks so much and don't forget to stop by for our weekly linky party, Doggone Dirty Craftin, every Thursday!

Craft on!

Anita and Kelly